Product Description
Product Description
Manufacturer of all kinds of coupling, Jaw coupling included
Standard or non-standard
Achieving ISO9001: 2000 and ISO14001: 200
Manufacturer of all kinds of coupling, Jaw coupling included
Standard or non-standard
Achieving ISO9001: 2000 and ISO14001: 2004, so our quality can guarantee.
Our Advantages
Comprehensive Product Portfolio We produce and supply a wide range of power transmission
products including drive chains, leaf chains, conveyor chains, agricultural chains, sprockets, and
couplings. This one-store-for-all shopping experience will significantly reduce your searching costs while
guarantee youfind what you want at 1 click.
Value Choice Products Our products are the best combination of quality and price, and you get what
you want within your budgets
Seasoned Sales Associates and Engineers We have 15 seasoned sales associates and 5 engineers;
on our team at your disposal any time when you need a helping hand. They are well trained with industry
know-now and will always respond to your requests within 24 hours.
100% Customer Retention Rate Our regular customers from overseas come back not just for our
premium quality products, but for the superior services that we've provided over the years.
 
FAQ
Q1: What's your average lead time?
A: It varies. Our regular end-to-end lead time is 1-2 months.. We also provide express shipments for rush orders. For details,please consult our sales associate.

Q2: Is your price better than your competitors given the same quality?
A: Definitely YES. We provide the most competitive price in the power transmission industry. If price disparity exists, we'll be more than happy to do a price match.
Q3: Can you make chains according to my CAD drawings?
A: Yes. Besides the regular standard chains, we produce non-standard and custom-design products to meet the specific technical requirements. In reality, a sizable portion of our production capacity is assigned to make non-standard products.

Q4: Can we inspect the goods before shipment?
A: Yes. You or your representative or any third-party inspection party assigned is allowed access to our facility and do the inspection.

Q5: What kind of payment method is acceptable for your mill?
A: We're flexible. We take T/T, L/C, or any other online payment methods so long as it's applicable for you.

Q6: What if I have any other questions?
A: Whenever in doubt, you're always encouraged to consult our sales associate any time – They will help you to your satisfaction.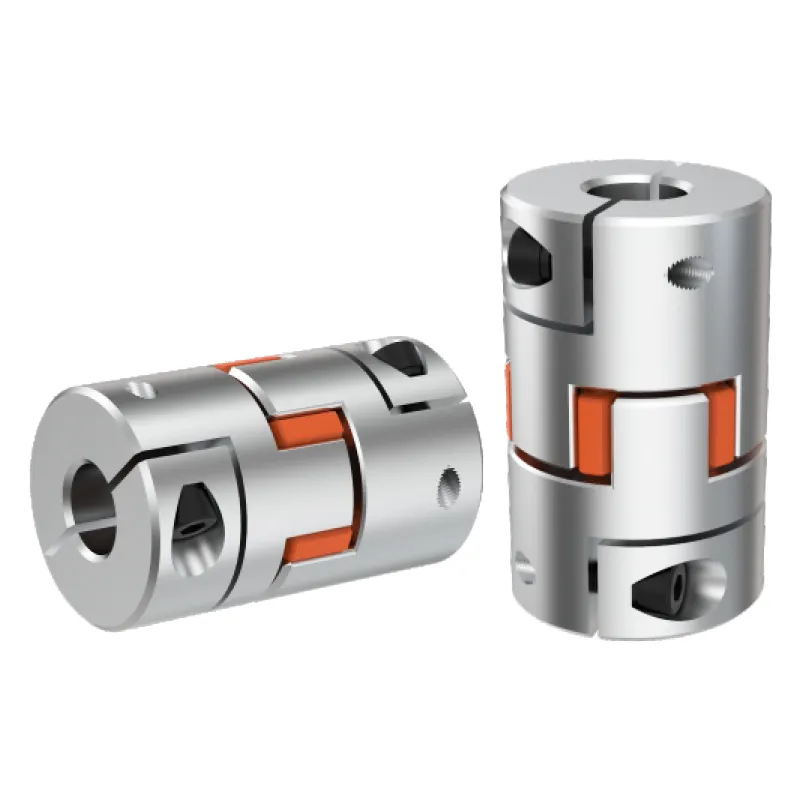 Minimizing Wear and Tear on Connected Components with Jaw Couplings
A jaw coupling plays a critical role in minimizing wear and tear on connected components by providing several key benefits:
Shock Absorption: Jaw couplings have a flexible elastomeric element between the two hubs, which acts as a cushion and absorbs shocks and vibrations. When the connected machinery experiences sudden jolts or impacts, the jaw coupling helps dampen these forces, protecting the equipment from damage and reducing wear on components.
Misalignment Compensation: In mechanical systems, misalignment between shafts is a common issue that can lead to premature wear on components. Jaw couplings can tolerate a certain degree of angular, parallel, and axial misalignment, allowing for better alignment between the driving and driven components. This feature helps distribute forces more evenly and reduces stress on connected components.
Resilience to Overloads: Jaw couplings can withstand temporary overloads, such as starting torque or sudden load spikes, without causing damage to the connected equipment. The elastomeric element of the jaw coupling acts as a torque limiter, protecting the machinery from excessive loads and preventing wear and tear.
Backlash Prevention: Backlash, which is the play or clearance between mating gears or components, can cause impact forces during reversing motions. Jaw couplings offer low backlash performance, reducing the potential for impact and minimizing wear on gears and other components.
Reduced Maintenance: By providing shock absorption, misalignment compensation, overload protection, and low backlash, jaw couplings help extend the service life of connected components. This, in turn, reduces the frequency of maintenance and replacement, leading to cost savings and increased productivity.
Smooth Power Transmission: Jaw couplings transmit power smoothly between the driving and driven shafts, resulting in less stress on components. The torsional flexibility of the elastomeric element helps prevent abrupt torque spikes, contributing to improved component longevity.
Overall, the jaw coupling's ability to absorb shocks, compensate for misalignment, handle overloads, and provide smooth power transmission makes it an effective solution for minimizing wear and tear on connected components. Regular inspection and maintenance of the jaw coupling are still essential to ensure its optimal performance and extend the life of the entire mechanical system.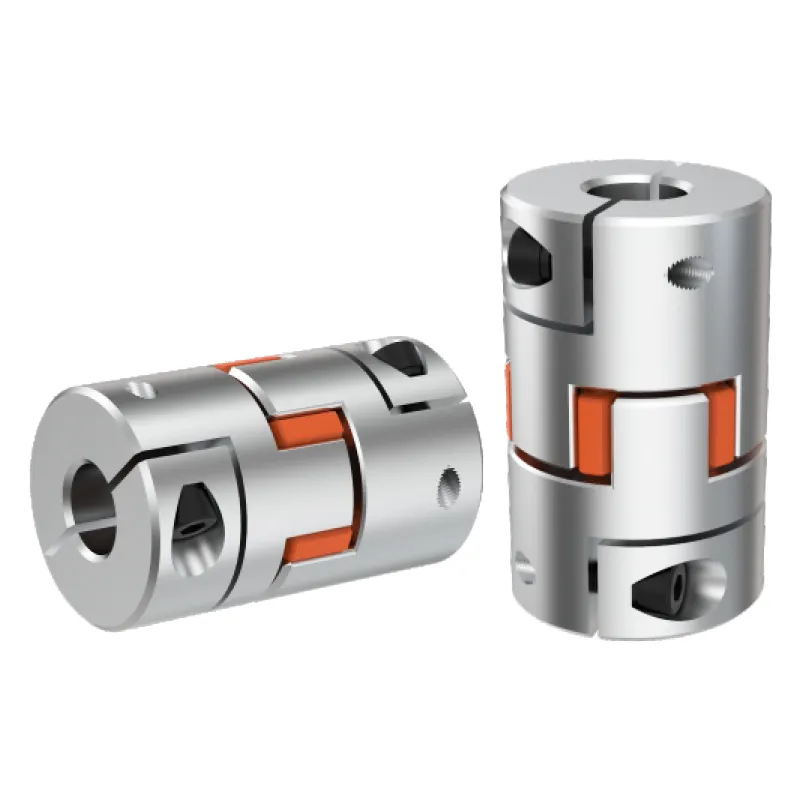 What are the factors influencing the thermal performance of a jaw coupling?
The thermal performance of a jaw coupling is influenced by several factors that affect its ability to dissipate heat and handle temperature fluctuations during operation. Here are the key factors that can impact the thermal performance of a jaw coupling:
Material Selection: The choice of materials used in the construction of the jaw coupling plays a significant role in its thermal performance. High-quality materials with good thermal conductivity can efficiently dissipate heat, reducing the risk of overheating and premature wear. Common materials used in jaw couplings include steel, aluminum, and various elastomers.
Elastomer Spider: The elastomer spider in the jaw coupling is a crucial component that can influence thermal performance. The type of elastomer and its specific characteristics, such as hardness and thermal conductivity, can affect the coupling's ability to absorb and dissipate heat generated during operation.
Operating Speed: The rotational speed of the coupling impacts its thermal performance. Higher operating speeds can generate more heat due to increased friction and stress on the coupling components. It is essential to ensure that the jaw coupling is rated for the specific operating speed of the application to prevent overheating and premature failure.
Torque and Load: The torque and load applied to the jaw coupling can also influence its thermal performance. Higher torque and load levels can result in increased heat generation. Properly sizing the coupling based on the application's torque and load requirements is essential to prevent excessive heat buildup.
Operating Environment: The environment in which the jaw coupling operates can impact its thermal performance. For example, if the coupling is located in an area with limited airflow or high ambient temperatures, it may experience reduced heat dissipation capabilities. On the other hand, an environment with good ventilation can help in maintaining the coupling's thermal performance.
Lubrication: Some jaw couplings may require lubrication to reduce friction and heat generation. Proper lubrication can enhance the coupling's thermal performance and extend its service life. It is essential to follow the manufacturer's guidelines regarding the type and frequency of lubrication to ensure optimal performance.
Continuous vs. Intermittent Operation: The thermal performance of a jaw coupling can also be influenced by the nature of its operation—continuous or intermittent. Intermittent operation allows the coupling to cool down between cycles, reducing the overall heat buildup compared to continuous operation, which may lead to higher operating temperatures.
Overall, careful consideration of these factors is crucial in ensuring the efficient thermal performance of a jaw coupling. Proper selection, installation, and maintenance of the coupling based on the specific application requirements can help prevent overheating, reduce wear, and prolong the coupling's lifespan.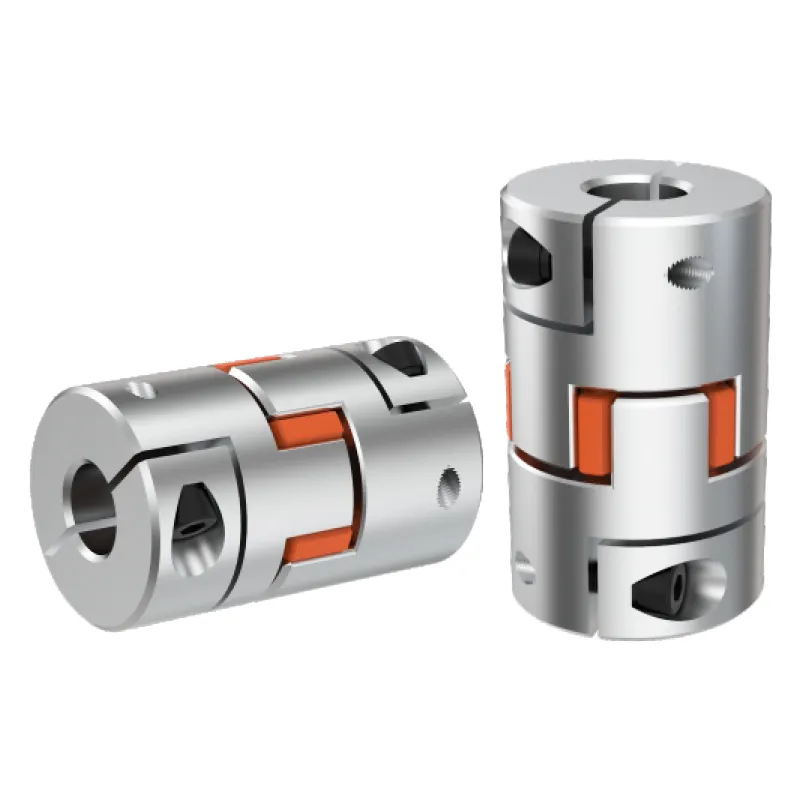 Materials Used in Manufacturing Jaw Couplings
Jaw couplings are commonly made from various materials, each offering different properties and suitability for specific applications. Some of the commonly used materials include:
Polyurethane (PU): PU jaw couplings are known for their flexibility, high elasticity, and resistance to abrasion. They are ideal for applications requiring vibration dampening and shock absorption.
Aluminum: Aluminum jaw couplings are lightweight, corrosion-resistant, and have good thermal conductivity. They are commonly used in low-to-medium torque applications.
Steel: Steel jaw couplings offer high strength and durability, making them suitable for heavy-duty applications with high torque requirements.
Stainless Steel: Stainless steel jaw couplings are resistant to corrosion and are often used in applications where there is exposure to moisture, chemicals, or harsh environments.
Bronze: Bronze jaw couplings are known for their excellent wear resistance and low coefficient of friction, making them suitable for applications with high-speed and low lubrication.
Acetal: Acetal jaw couplings provide good chemical resistance and low moisture absorption, making them suitable for applications where chemical exposure is a concern.
Nylon: Nylon jaw couplings offer good strength, flexibility, and resistance to wear and chemicals, making them suitable for various industrial applications.
The choice of material depends on factors such as torque requirements, environmental conditions, operating speeds, and budget considerations. Engineers and designers select the appropriate material to ensure that the jaw coupling can perform optimally and withstand the demands of the application.



editor by CX 2023-08-14